Phase 1 Medical Thermal Imaging, LLC.
|
home


Welcome




provides onsite Digital Infrared Thermal Imaging (
DITI
) services--also known as thermography.
DITI
is a non-invasive diagnostic method that uses a camera to measure heat emitted from the skin surface. Data collected from our highly specialized camera is used to create a color image on a computer screen. Areas of increased or decreased metabolic activity - the amount of infrared radiation (heat) emitted from the body surface - are represented by different colors. Each color displayed represents a range of 0.5 degrees Celsius. Since there is a high degree of thermal symmetry in a normal body, subtle abnormal temperature patterns can easily be identified. Physiological abnormalities create asymmetrical heat patterns.
DITI
is a valuable early detection, diagnostic tool because a
physiological
abnormality often precludes a physical abnormality. Other diagnostic imaging methods show physical (structural) rather than physiological abnormalities.



All thermographic images taken by

are interpreted by certified thermologists. All equine thermologists are Doctors of Veterinary Medicine who have special training enabling them to interpret medical thermal images.

reports the findings of the equine thermologist to our client or the appropriate medical professional within 72 hours. Respective physician(s) use the reports to determine the best course of medical action if warranted.
DITI
provides information about a horse's response to treatment, an injury, or a disease.
Early detection
of physiological abnormalities reduces the number of injuries to your competitive or show horses. Dr. Allen, a member of the United States Olympic veterinary team, said
thermography was the most requested form of imaging at the 1996 Summer Olympics in Atlanta, Georgia.

also provides equine buyers and sellers with important information regarding the physiological condition of a horse. Buyers may use this information to help determine the likelihood of medical problems when making a purchasing decision while sellers may show the soundness of their horse to attract potential buyers.

is developing a medical referral network, comprised of veterinary practitioners, using the most advanced natural techniques to insure the health of your horse.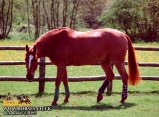 Reproduction of material from this page without written permission is strictly prohibited
Last updated on 02/21/2001 1:22 PM PDT
Copyright © 2000-2001 Phase 1 Medical Thermal Imaging, LLC.